The Wisdom Key For February 2018
Seek To Be In Agreement
Can two walk together, except they be agreed?" (Amos 3: 3).
… if two of you shall agree on earth as touching anything that they shall ask, it shall be done for them of my Father which is in heaven (Matthew 18: 19).
… one chases a thousand, and two put ten thousand to flight, … (Deuteronomy 32: 30)
February is the second month of the year: prophetically, it is the beginning of the months for the Mighty Outpourings that the Lord promised this year, namely, outpouring of the water of the Spirit, outpouring of the Spirit – the Spirit of grace and supplication, of favour, wisdom, love and power; and showers of blessings. Numerically, February has the value of two (2).
Two is the number of union (in agreement), for two cannot walk together except there is an agreement between them (Amos 3: 3). The wisdom key for the mighty outpouring this month is to seek to be in agreement. The mighty outpourings recorded in the book of the Acts of the Apostles happened when the disciples were in one accord and suddenly the Holy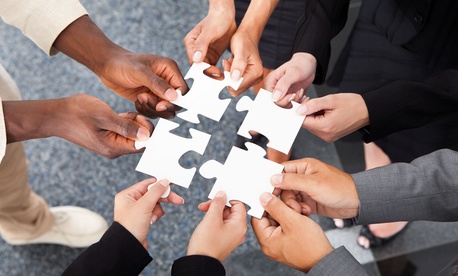 Spirit came upon them with mighty blessings that transformed their world and impacted many generations afterwards (Acts 2: 1 – 2; Acts 4: 31 – 32).
It is a known truth that a man can receive nothing except it is given to him from above (John 3: 27); and that every good and perfect gift comes from our Father in heaven (James 1: 17). This year, God has promised mighty outpourings of family blessings – also called household blessings. Are you ready for yours? Then, seek to be in agreement, for two shall put ten thousand enemies to flight to make room for your household blessings (Deuteronomy 32: 30). In your prayers, seek for the following agreements and ensure you have it:
Agree with God and His word – don't doubt what God says; pure wisdom from above entertains no doubts nor fear nor hypocrisy (James 3: 17).

Seek agreement in the family and with your spouse, for it is written, "… and they were one … and were not ashamed" (Genesis 2: 24 – 25). Agreement is the solution to your family shame that you may be experiencing now!

Seek to agree with your pastor or spiritual leader and mentor, for it is written, "Behold, how good and how pleasant

it is

for brethren to dwell together in unity! … for there the LORD commanded the blessing,

even

life for evermore" (Psalms 133: 1, 3b).

Seek for agreement in your small groups or teams in Churches, offices, market places, governments – senate and house of reps with the executive arm… for if there is agreement and prayer, nothing that you imagine and purpose to do shall be impossible to you (Genesis 11: 6).
Let there be godly agreement and there shall be mighty outpourings of blessings from above for your benefits, starting from this month. Seek agreement and seek reconciliation whatever it takes, and you shall trigger the heavenly wisdom key to unlock the heavens for mighty outpourings. There shall be showers of blessings. Praise God!  
      POINT OF ACTION FOR DEVOTION
Engage yourselves in a prayer of agreement this month, in whichever group you find yourself, for it is written,

… "if two of you shall

agree

on earth as touching anything that they shall ask, it shall be done for them of my Father which is in heaven" (Matthew 18: 19)

Visit our

High Impact Glory Team's website today and register to receive our Glory e-book of Grace and Prayer, to prepare you for a Glorious life.

 click this

link

.

You are blessed and highly favoured:

Jesus Loves You & We Care!
Bishop Oden, PhD, is a Glory Maker and a Glory Intercessor, with deep prophetic insights to the mysteries of God. He is the superintendent of Global Message of Hope Mission International, Calgary- Canada and has published nineteen books. He is charged with raising Glory Army of Believers and Intercessors for the Lord Jesus Christ, equipping this generation across denominational boundaries, creating wealth and abundance and restoring life, hope and joy.
Will you partner with Bishop Oden today for these noble kingdom assignments for our Lord Jesus Christ: Click here to partner with us!
Please feel free to leave a comment or ask questions in the bar below!